"Lewis is a hugely gifted singer… but more importantly, a born communicator." 
– The Montreal Gazette

Barbara Lewis's wide vocal range reminds listeners of both Anne Murray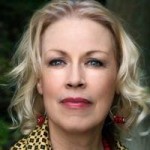 for her low notes and Judy Collins for her expressive upper range. Barbara performs concerts and one-woman theatrical shows. Her last original theatre work, Crossroads, finished with a 3-week run at the Centaur Theatre in Montreal.
Barbara's recent concert tour was titled, "My Canada: Singing the Soul of a Country," which featured all-Canadian songs in honour of Canada's 150th birthday.
Her 2013/15 tour was titled, "Passionate Heart."  This show featured the songs of Joni Mitchell and Leonard Cohen.
2018/19 Performance Project

BLOOD ORCHID
Currently, Barbara is working on a new project for the 2018/19 seasons titled:
"Blood Orchid: Songs of Earth and Space"
Conceived as a multi-media project, Blood Orchid: The Concert will include emotional cover songs that pull at the heart strings such as: If you go away (Ne me quitte pas), You take my breath away, and I can't make you love me. Half of the concert will be songs from Barbara's own New Age Fusion style compositions such as Body and Lullaby for a deep sleep, Blood Orchid, and other songs that are currently in the works.
Until 2013, Barbara had remained devoted to the composing and performing of her own material exclusively. Of these works, videos for "Lullaby for a Deep Sleep" and "Body" have aired extensively on PBS.
With the show, Passionate Heart, Barbara began to include covers in her concerts.
Her most recent performances include:
• Performances in Eucador (Loja and Vilcabamba) and Mexico
• University Club of Montreal – Launch of "MY CANADA" Show
• The Canadian Tulip Festival, Ottawa, Canada
• California, (Carmel & Pebble Beach)
• London at The Aeolian Hall
• Ottawa at the Shenkman Arts Centre
• Montreal for the St. Columba Arts Series.
Lewis has performed with juno-winning musicians and principle instrumentalists from the Montreal Symphony Orchestra. She has recorded 6 CDs and many other songs for sale on numerous digital platforms. Several of her music videos play regularly on television (PBS & Classical Arts Showcase) in the U.S. Her current pianist/arranger is the well-known, Toronto-based, Doug Balfour.

2015/2017 performance project:
"MY CANADA – Singing the Soul of a Country"
This project included some of our best-loved Canadian songs and the ideas that inspired them, through concerts, video & sound recordings, writing, social media sharing and collaborations with various other Canadian artists.
The 2-year long project was a celebration of Canada's upcoming 150th birthday on July 1, 2017. It featured songs written by Burton Cummings, Neil Young, Jane Siberry, Leonard Cohen, Claude Dubois, Joni Mitchell, Buffy St. Marie. Luc Plamondon, Ruth Lowe plus many more. Lewis has recorded several of these songs backed by 8 instrumentalists.
Barbara is a featured singer & vocal coach in a recent documentary about music and healing by award winning filmmaker, Anne Henderson called, In The Key Of Claire. It has been aired on CBC TV and other TV stations, with numerous local and private showings.
Lewis is also a well-known vocal coach who specializes in working with older singers – both professional and amateur. In 2006, she founded a highly regarded web site: Singing-Tips-With-Barbara-Lewis.com that teaches about the art and business of singing. She gives talks and workshops on the art of singing and has written many articles and guides for aspiring singers in their quest to improve their art.
Barbara's hobby is latin-dance. She is currently learning Spanish.  Lewis splits her time between stylish, indie-music-crazy Montreal (where it snows a lot!) and sunny, glorious Mexico (where it rains a little). 
—————————————–TALKS
Lewis offers two dynamite talks that are suitable for 40+ audiences.
1. "Singing After Forty" – Never Too Late To Discover Your Voice!
2. "Take my Breath Away" – Ways to remain creative and "in thrall" though out life.