THE "BLOOD ORCHID" PROJECT 2018/19
Currently, Barbara is working on a new project for the 2018/19 seasons titled: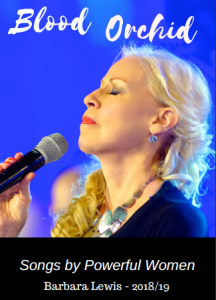 BLOOD ORCHID: Women's Stories… in Song

Conceived as a multi-media project, Blood Orchid: The Concert will include cover songs written by or made famous by well-known women singers such as: Edith Piaf –  If you go away/Ne me quitte pas; Bonnie Raitt – I can't make you love me; Nina Simone – You know how I feel; Nana Mouskouri – Every Grain of Sand; Joni Mitchell –  A Case of You; Eartha Kitt – I wanna be evil; Mercedes Sosa – Gracias a la vida; Bette Midler – The Rose and many more.
Barbara will also sing several of her own compositions in this show such as Body, Lullaby for a deep sleep, Blood Orchid and other songs that she is currently writing.
Why the name, "Blood Orchid?"
Orchids have great beauty… in some cases, almost a spiritual quality. But they are also very earthy and sexually complex. Orchids are survivors – they may go back as far as 100 million years and therefore are among the oldest known flowers on the planet. Their roots can live in soil, but many take their nutrients, almost magically, from the air. Orchids are a complex blend of earth and space; beauty and subterfuge; hardiness and great fragility. At this point, there is no plant known as the Blood Orchid.

————————————–
The "Spirit" area of the Blood Orchid project is a place (on Facebook, at present) for woman to post links and articles, and to discuss the more spiritual aspect of women's awakening during this time of global evolution.